Incomparable Food Catering In Las Vegas
Fabrizio is known for more than just its elegant banquet hall, reasonable prices, and breathtaking interior. We are also well-known for our food catering in Las Vegas. At Fabrizio, we develop a diverse cuisine experience tailored to your heritage and preferences.
Our in-house and experienced chefs collaborate with you to create a menu that is unique to you and complements the theme of your event. We utilize only the finest and freshest ingredients to prepare dishes full of flavor and care. We also provide a range of dining styles based on your preferences. Allow us to plan a memorable supper for you and your guests!
We will offer a dining option that works best for you, regardless of the size of your party or the style of your event.
With our great chefs and attentive staff, our catering services in Las Vegas ensure that all of your food catering needs are met.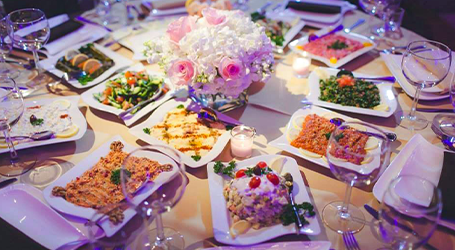 With this dining style, guests can assist themselves with the various delights placed on the table. With this dining arrangement, you can enjoy the intimacy of the family supper without having to get up and leave the table. This is our most popular wedding catering choice because it gives the ideal intimate setting for guests to feel at ease.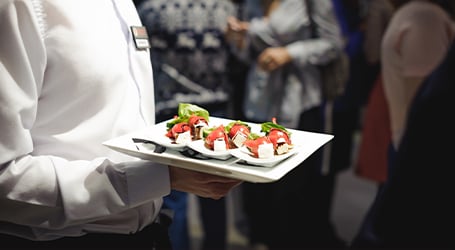 With our table service option, guests can pre-select their evening meals. Our skilled wait staff will serve each guest's meal individually, creating an excellent dining experience for your guests. Allow your guests to create a menu filled with their favorite items.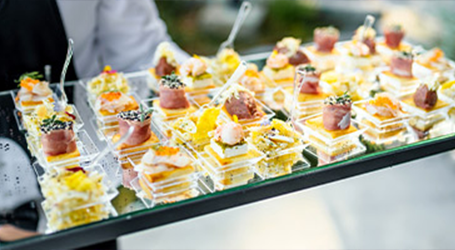 Our cocktail hour service creates an intimate and sumptuous ambiance before your event begins. At this time, our wait staff will serve various small plates and beverages, keeping guests pleased and excited for the rest of the night. Feel free to choose food catering dishes that are most appropriate for the theme and style of your event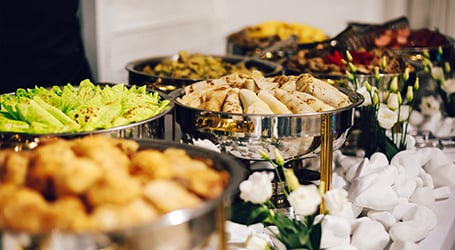 Our buffet style dining keeps the setting casual by allowing guests to self-serve their favorite foods from a display of numerous entrees and sides. With this dining style, guests can choose their own portions and when they want to eat, allowing them to go at their own leisure. It also encourages guests to mingle with others rather than remaining at their designated table throughout the evening.
Wedding Catering In Las Vegas
Wedding catering should be as special and unforgettable as your wedding day. Allow us to build a stunning cuisine that is unique to your culture and background. Whatever dining style you select, we guarantee that your cuisine will be prepared with the freshest ingredients and flavorful dishes. Let our wedding catering in Las Vegas work with you hands-on to create the ideal menu for your special day, ensuring that your first meal as a married couple is unforgettable.
To-Go Food Catering In Las Vegas
At Fabrizio, we also offer delicious to-go catering services for your next event wherever you choose!
Whether you need our food catering services for a private event or a large party event, we are more than happy to cater to you and your guests. With our vast variety of cuisines and menu options, we ensure that everyone will be satisfied.